Biedermeier style – from passe to must have
At present, the Biedermeier style enjoys exceptional appreciation and popularity, although it aroused a lot of controversy in the past. Today's antiques market in Poland abounds in Biedermeier furniture, which is eagerly bought both as home and housing equipment and for investment.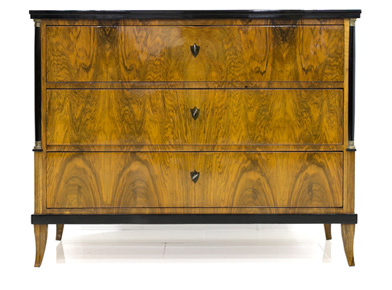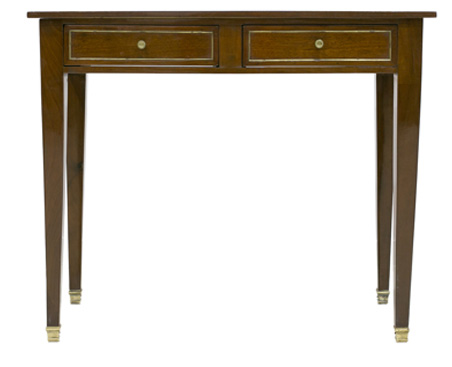 The history of the Biedermeier style is full of ups and downs. Biedermeier was born after the Congress of Vienna (1815) and lasted until the Spring of Nations (1848/49). It possessed virtually all countries of Central and Eastern Europe. It also appeared in Russia and Scandinavia, but Berlin, Vienna and Munich are considered to be the main centres for the development of this style. The very creation of this style was a response to the tastes and needs of the townspeople (the style of burghers for burghers), which many art experts then interpreted as a temporary, devoid of ideals and trashy fashion.
Characteristic of the Biedermeier style was furniture, which is characterized by simplicity, comfort, solid construction and workmanship, and elegance. For the manufacture of furniture, precious wood species were used (e.g. cherry, mahogany, nut, ash, maple), thus enhancing the natural colour and beauty of the grain, mainly using veneers.
The decorations are very subtle and simple, e.g. fittings made of gold-plated bronze, bone or brass, modest woodcarving or string intarsia. Biedermeier implemented rounded lines in the construction of furniture (e.g., cymoid table legs, bent elements of armrests, etc.), which are one of the most recognizable features of this style. The rich colours of upholstery materials focused on bright colours, but the upholstery often had colours contrasted (e.g. red-navy or lilac-yellow). Hand-embroidered flowers were also popular.
Large furniture surfaces (e.g. table tops) had a frame and panel construction. The most widespread devices were those that created the living room design, that is, sofas, armchairs, chairs, seats, gondolas, tables (usually round or oval shape and supported on one, placed in the middle of the leg), display cabinets, secretaires and chests of drawers. Thread tables were also valued, i.e. small handicraft tables.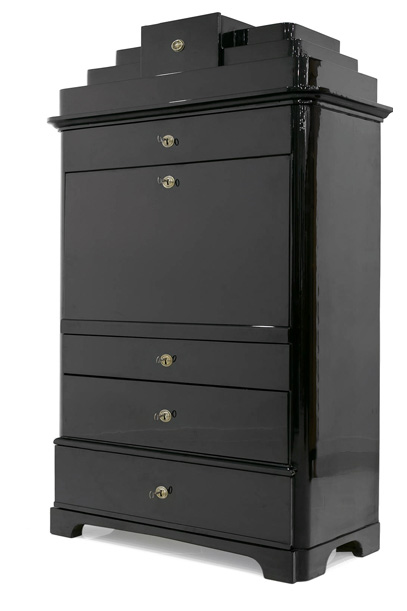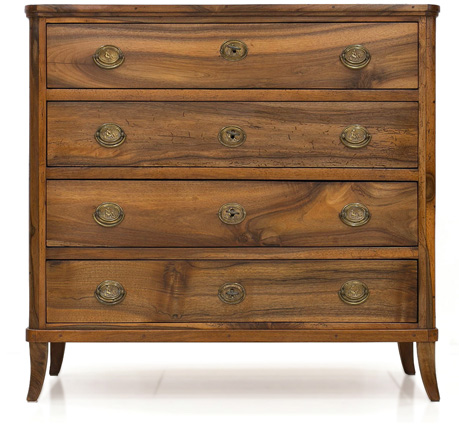 Biedermeier style is most strongly associated with furniture, but it is not only antiques. He also included painting, architecture, literature and music. During the reign of Biedermeier, particular clothes, fabrics, jewellery, bibelots and ceramics were also adored.
In the Biedermeier style, convenience definitely dominated the representative function. Antiques in this style are simple, practical, comfortable to use and also durable and relatively inexpensive. Elegant, aesthetic and at the same time free from excessive decorativeness or monumentality. These antiques, being the original decoration of home interiors, are also a perfect investment of capital.